David Acevedo - visual artist

B.F.A. in Visual Arts - University of P.R. 1998
2009 Lee County's Angel of the Arts - Winner Visual Artist of the Year

Founding and Core Member of the Downtown Fort Myers Art Walk 2008 to present
Co-owner and primary artist of daas Gallery in Fort Myers, FL
August 2008 - July 2012.
Co-founder and managing artist at The Union Artist Studios in Fort Myers, FL
August 2012-Present.
Fort Myers Public Arts Committee Member June 2012 to November 2012

Currently represented by Magnum Gallery, Wilton Manors, Florida

www.gregmagnumgallery.com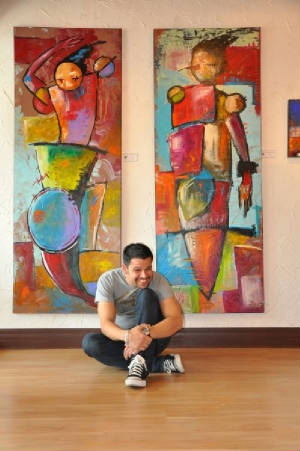 David Acevedo has been intrigued by the strange and by the things that stand out since he was very young. His interest in art came at the tender age of four when he would sit down for hours analyzing, page by page, an old illustrated bible that he found in a closet. After that, drawing and coloring books became an obsession to him. His sisters keep some of his first illustrations of imaginary characters and other drawings like treasures.
He then discovered the world of comic books and for years he practiced copying the shapes of their bodies and analyzing the details and colors. He developed a keen eye for proportion and color. This influence is noticeable in his work today. A trademark of his work are the bold and dark lines that frame his colorful images.
At seventeen years of age he decided to forge his parent's signature in the College application and was accepted in the Humanities Department, Visual Arts Program of the University of Puerto Rico in the city of Mayagüez. There was a reason why his parents disapproved of his decision: money. Moving to Mayagüez meant finding a place to live, money for college, books, meals and all of the unexpected. For David, being accepted in such prestigious university was too big of a chance to miss. Luckily, the Pell Grant and other financial aids helped him reach his goal and his professional art education took off. He graduated Cum Laude in 1998.
Since then, many things have happened. He moved to San Juan, Puerto Rico a year or so after graduation. He found representation in a couple of galleries and started producing his unique pieces in a small studio/custom frame shop he shared with his partner Xavier Brignoni. Meeting Xavier was one of the best things that happened in his career as an artist. Xavier understood art and knew how to deal with people. He owned his own custom framing business and was pretty well known in the San Juan area. They both formed a solid team and little by little people started noticing David's work.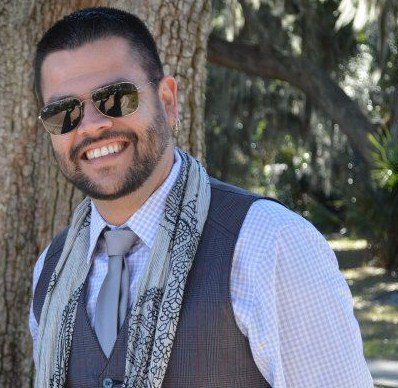 The unexpected happened and in the year 2000 David was offered a job in a place called Fort Myers, Florida. It was a great opportunity and a chance to secure a future. After much consideration, he decided to leave his beloved island and move to an unknown environment where he struggled for some time missing everyone and everything back home. Again, luck struck and Xavier decided to move to Fort Myers and they both began their lives together in the main land.
Although the custom framing business was never reestablished, David dedicated himself to paint every chance he could. A demanding job took most of his time and energy, but he pushed through never leaving his passion aside.
David has developed into a well known artist in the South West Florida area winning Visual Artist of the Year at the Lee County's Angel of the Arts Awards in 2009. His website, established in 2002, helped him reach out to collectors in cities like New York, Miami and others as well as countries like Canada and Spain. He reopened his professional studio in Fort Myers, FL in 2012 and since then has been dedicated to create and promote his and other artists' work with opening receptions and other events.
The Acevedo & Brignoni studio is located at The Union Artist Studios 10051 McGregor Blvd. Suite 202 Fort Myers, FL.